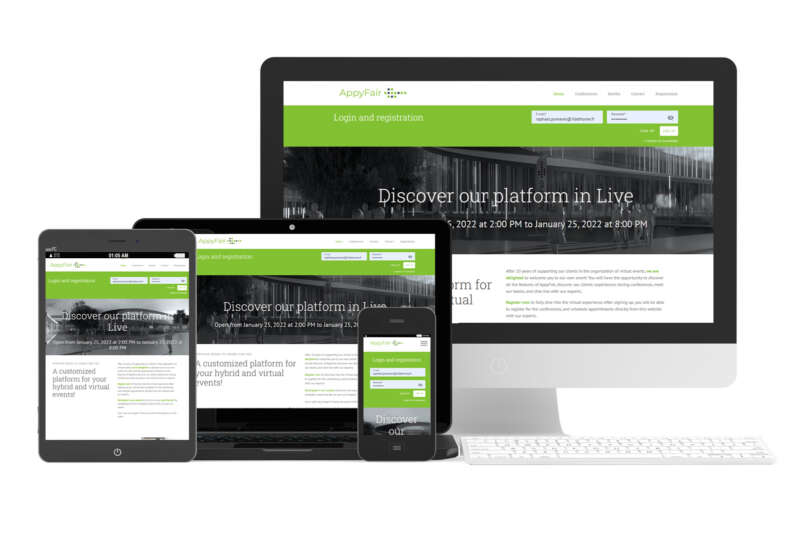 This time, you are our guest!
3D at Home is organizing its own virtual event on January 25 from 2 pm to 8 pm to present its new virtual fair platform AppyFair, resulting from 10 years of experience in digital fairs and more than 350 events organized in various fields.
You will have the opportunity to live a new experience by our side, discover all the functionalities of our solution, and meet our experts on booths or live.
Share the news on social media
6 good reasons to participate
Prize contest : 1 free virtual event !
Stay on the lookout, and collect the clues hidden throughout the fair to win one of our 2 prizes *:
A fair prize!
25% discount on your next fair
To participate :
Answer the 2 questions on the AppyFair platform
Report the clue given by the sales representatives during their demo
Enter the secret code of the golden ticket hidden in the fair
2.00 PM  – Opening of the fair
A public chat is open throughout the fair and we will answer all of your questions live at 5 pm (FR + EN)
Meeting times with sales representatives are available throughout the event (except during conferences): you can book an appointment from the " Booth " tab of Landing page as soon as you register (FR + EN)
Participation in the prize contest is open from 2 pm to 6 pm
Our team is available on the different booths to answer all of your questions via private messaging or video (FR + EN)
2.15 PM  – The 2 founders of 3D at Home and AppyFair tell you the story of the company (FR)
2.50 PM  – From the old version to the new one: Enedis' experience in recruiting interns and work-study trainees by Amel, HR project manager (FR)
3.10 PM  – Testimonial from Marc-André, project director at AGORA OPUS 3 in Canada, who organized several events with our platform (EN)
3.30 PM  – Demos of the platform by your sales representative Justine (EN)
5.00 PM  – Answers to public chat questions with project managers, salespeople and founders (FR + EN)
6.30 PM  – Result of the contest, official announcement of the 2 winners (FR + EN)
8.00 PM  – End of the fair, the platform remains open for consultation of the content and replays of the conferences
We can't wait to meet you!
As soon as your account is created, you can make an appointment with our sales representatives and register for conferences so that you don't miss a thing!
We look forward to meeting you all,
See you soon,
The AppyFair team